I am so excited to announce my winners of my Blog Anniversary giveaway but first I wanted to share with you about some hops I am in in the next week.
First tomorrow I am participating in Gotta Have Friends Hop hosted by Alex. I am sure she has some amazing things in store for all of you and some amazing giveaways!! So be sure to stop by tomorrow!!!!
Second Sunday and going all week long, is our second Queen's Royal Court Hop and we are showcasing PSA Essentials all week long! You will not want to miss one project this is one amazing company and Theresa will have an AMAZING giveaway on her blog donated by PSA Essentials.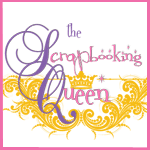 Third is our Monthly My Pink Stamper, Pinkalicious Blog Hop next Friday the 8th. All of the designers have amazing projects planned and there is always fun hop candy along the way. I hope you will join us!!!
Now on to my winners, I am so excited who Random.org choose.
The Winner of My favorite Cricut Font Cartridge, Lyrical Letters......
Is #56
Trisha
,
I was so excited when Random picked my bloggin bestie!!!! It is amazing how blogging can help you meet the most amazing people!!
she said...
Love the card, as usual! Happy Blogversary!!!! I'm so glad you started a blog, cause if you hadn't, you wouldn't of won one of my first giveaways, and than we wouldn't be bloggin BFF's!

:) True story! lol

Congrats again dear!
Congrats:-) I love how that card looks like a giant stamp...way too cute!!!!
And last but not least the winner of one of my favorite stamp sets from My Pink Stamper.......
Congrats on your blogaversary!!! Thank you for the chance to win such yummy goodies too! Love your work and happy to be a follower!
Lisa
Congrats lady's!! I will contact you 3 shortly. Thank you everyone for all of the sweet comments, I really enjoyed reading each and everyone of them!!!